Featured Products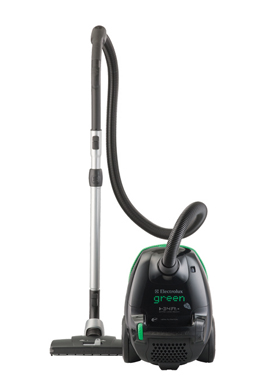 The Electrolux Ergo Green
Made with over 50% of plastic that is from recycled materials.
Over 50% of packaging is from recycled unbleached cardboard.
Extra Long Reach – the extra long hose and cord give you up to 34 ft or reach.
High Efficiency Motor – 10 AMP motor with high efficiency suction fan & Dust Magnet nozzle.
Ergoshock ™ bumper and hose Management System – Ergoshock™ flexible cordworks as a furniture guard then doubles as a hose wrap for compact storage.
The Electrolux Deluxe Ultra Silencer
Ultra Quient Performance - Comes with double hull construction and sound absorbing technology to ensure a quiet cleaning experience.
SEALED Hepa Filtration System – Totally sealed system with HEPA level filtration keeps microscopic particles inside the cleaner.
Aeropro ™ Hose and Wand System – Unlike most other vacuums, the sealed airpath from the Aeropro ™ wand plus the sealed HEPA filter keep dust and debris within the vacuum, giving you cleaner floors and a cleaner and a cleaner home.
All Surface Versatility – The Powerhead is adjustable for all types of floors surfaces. It also has a quick release wand for cleaning up high.